I finally found some time to doing my nails again and getting back into nail art a little bit. I decided to splurge a little for once and buy some tools for nail art, and decided to just go ahead and share my collection. I hope you're ready for this, because there's a ton of pictures coming up. :) In case you guys are interested in these items, I'll try to post prices and where I got them from to the best of my memory at the end of this post. Enjoy!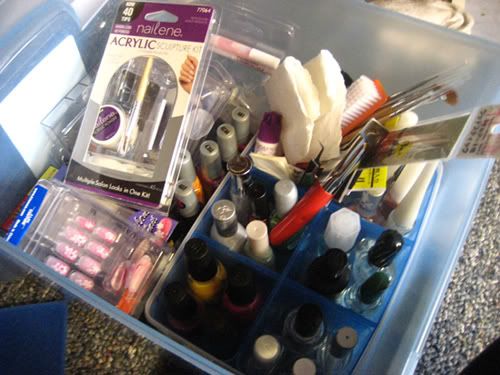 I can pretty much fit everything in there, but my boyfriend bought me a case with 3 layers that can be taken apart. The 2 3-compartments on the right are from the case my boyfriend got for me, but it's really good for holding nail polish. :)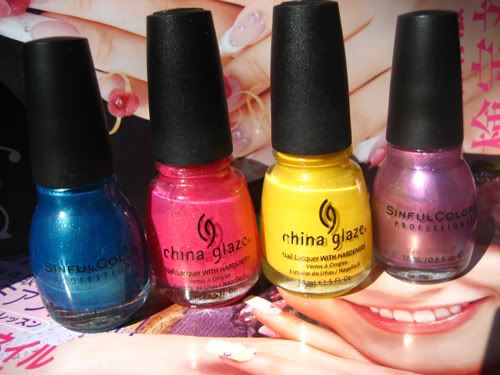 SinfulColors 104 Aqua
This one is my little sister's actually...
China Glaze 716 Strawberry Fields
Used this many many posts back, love this color!
China Glaze 653 Solar Power
Not the best nail polish, because it streaks easily :(
Sinful Colors 387 Bali Mist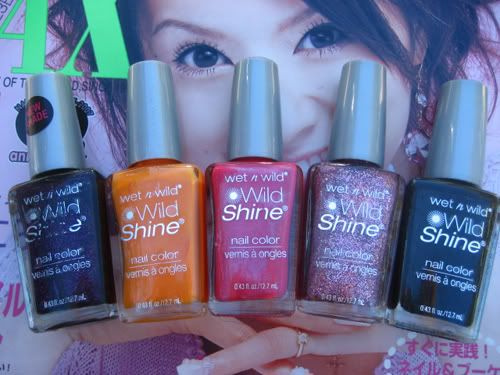 Wet n Wild 467 Night Prowl
Wet n Wild 405 Sunny Side
Wet n Wild 461 Lady Luck
Wet n Wild 435G Sparked
Wet n Wild 424A Black Creme
I LOVE Wet n WilD NAIL POLISH! The colors are fantastic and usually you only need one coat. I'm currently wearing Lady Luck with Sparked, and it gives a really pretty finish, I'm simply loving it. <3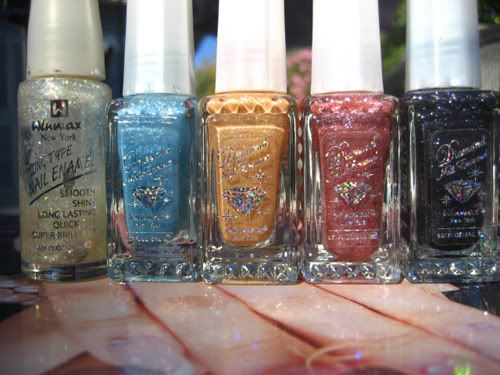 Nail polishes I bought from Daiso for $1.50 each. I just love the packaging! The quality is alright, but I think you're mostly paying for the gorgeous bottles. I had a light pink one too, but I think I threw it away.. I don't use these anymore.
Maybelline Express Finish 900 Go Go Green (?)
No clue if that's what it is, I had to look it up. Shimmery green polish and very long lasting!
Petites Light Green Polish
Not sure who's this is... one of my sisters'!
CQ 103 French White
I think these can be on the sheer side, I don't remember. I haven't used this in years!
Unknown Brand Red Polish

I used this once. I have no clue who's it is, but it's pretty.. XD


Sally Hansen Diamond Strength 05 Diamonds
Love for Sally Hansen! Very lovely, no chipping!!
Top & Base Coats
Different brands from different stores. Some good, some I've never touched again!
Seche Vite Dry Fast Top Coat Top Coat
To be completely honest, I do not like this. I don't know if my bottle was just a dud or what, but this is just no good for me. When I use it with some of my polishes, it just starts peeling off right away. It's also very gloppy and doesn't finish with one layer. I use it only for DIY, never on my nails.
Daiso Brand Top Coat
This was alright. Not bad for $1.50, but not the best top coat I've used. I got purple glitter inside the bottle, it doesn't come that way lol.
Poshe Anti-Microbial Base Coat
I love this base coat! I got it on clearance sale, and so glad I did. I used this on my toes (one of my toes hurt a lot on the side, my boyfriend suspected possible ingrown nail or something). Whatever it was, it went away, yay! Maybe left-over nail polish was left and caused minor infection or something (eww), but this polish is really really good for that and just as a basecoat. Recommended!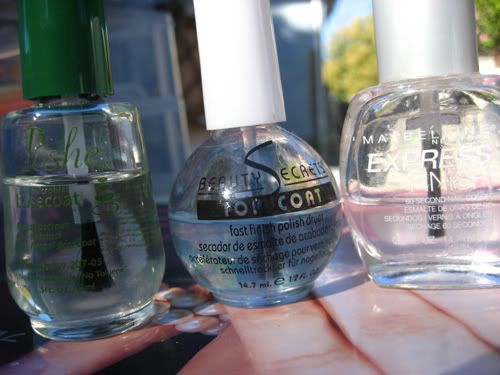 Beauty Secrets Top Coat
My sister bought this, and I really really like it! It's not thick like my Seche Vite, so it goes on very smoothly.
Maybelline Express Finish Top Coat
Another really good top coat. The only problem is, I can't use it because the brush can barely reach the polish haha.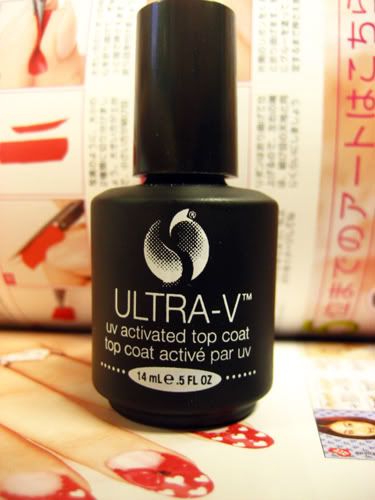 Seche Vite Ultra-V UV Activated Top Coat
I bought this to use with my new UV light. So far so good! Only applied it to my fingernails last night, and my toenails earlier today, but so far no chipping or anything like that. I'll give it another day or so when I go to work and see if it holds up to tons of dish washing. :P
Daiso Brand Cuticle Treatment Oil
Not very good, but it was all I had for a long time so I used it a lot. I also dropped it outside so a lot spilled out and that's why the packaging is all messed up.
Borghese Cuticle Oil
Love love love! I got it for only $1.99, and totally worth it! No more dry cuticles or painful hangnails. :D